"Stay" is the 90th and final episode of How to Get Away with Murder.
Summary
Annalise discovers there's a surprise witness that threatens her case. Meanwhile, Connor tries to persuade the K3 to go along with a new plan. Elsewhere, a lie between Frank and Bonnie threatens their relationship as Annalise's killer is finally revealed.
Plot
Notes and Trivia
Important Trial Events
Frank insists that he is innocent of Hannah's murder. By threatening her lawyer Frank gets a recording Hannah made implicating Birkhead in Nate Sr.'s murder. Annalise plays the recording for the jury at the trial. Birkhead denies that she is on the tape, but is notably shaken by this evidence.
Oliver tries to get Connor a better deal with the FBI by agreeing to testify that he deleted nude pictures of Annalise and Wes at Annalise's request - an idea that Connor roundly rejects.
To spare Oliver the pain of having a husband in prison, he presents Oliver with divorce papers. He is last seen being handcuffed and escorted away. Oliver furiously tells Michaela that she, not Connor, should be the one going to prison.
In exchange for multi-million dollar property from Laurel, Tegan arranges for Jorge's prison murder.

After an impassioned closing statement in which she exposes herself to the world for the first time, Annalise is found not guilty of all charges.
A distraught Michaela attempts to call Laurel after Annalise is found not guilty, but the number has been disconnected (or possibly blocked).
Outside the courthouse, Annalise opines to the press that Agent Lanford should face charges of conspiracy for his slew of unethical actions. She also calls for an investigation or the impeachment of Governor Birkhead.
Frank shoots and kills Governor Lynne Birkhead on the courthouse steps in a valiant (if not misguided) attempt to "make things right". He is killed by return fire from courthouse security guards. Bonnie, who tries to stop Frank from the shooting, is caught in the crossfire and dies in Annalise's arms.
Post-trial life and funeral
"Determined, tough, stubborn. I know many people find it hard to be around a person like this. It's easy to choose nice, even if that means settling. But the rest of us know this: when the sun shines on you, you're a fool to turn away."
—Eve Rothlo delivering Annalise's eulogy
Annalise's funeral depicts three events in her life: her mother Ophelia's death, her relationship with Tegan, and her lapse back into alcoholism.
At some point in Annalise's life, she changed her surname back to Harkness.
Towards the end of the funeral, Annalise is shown walking and holding a number of (faceless) hands. The last hand is Annalise's alone; she is then shown walking alone into the afterlife.
Connor, Oliver, Laurel and Christopher are present for Annalise's funeral.

Billy Brown and Amirah Vann were also filmed at the funeral, but both Nate and Tegan's funeral footage was excised from the show's final cut.
Gabriel's fate is unknown; he is never seen again after taking Frank's money.

Connor and Oliver have reconciled after Connor's prison sentence. They are depicted as happy and still in love.
Nate opens a justice center for incarcerated society members and their families. He becomes a public advocate for prison rights.
Michaela's friendship with the remaining Keating 3 is permanently destroyed by her actions at the trial. In the flash forward, she is seen standing beside two young girls (most likely her daughters) as she is sworn in as a judge. She does not attend Annalise's funeral.
Longtime friend and first love Eve Rothlo gives Annalise's eulogy. She acknowledges that Annalise ultimately did not choose her as her life partner, but that she cherished the times they had together throughout Annalise's life. Eve encourages the funeral crowd to not just remember Annalise, but to forgive her for being so demanding and difficult to love.
Annalise is seen dancing happily with Tegan; a picture of their first date is seen on Annalise's funeral board. Tegan is not seen at Annalise's funeral, which strongly suggests that Tegan died before Annalise (and possibly triggered Annalise's relapse).
Wes Gibbins is confirmed dead. Alfred Enoch plays Wes and Laurel's son Christopher in the flash-forward.
Laurel appears to remain close to Annalise for the rest of Annalise's life, as Christopher mentions Annalise as his mentor. Christopher becomes a Criminal Law Professor at Middleton. He teachers the same class Annalise did - Criminal Law 101 - and names the class How to Get Away with Murder in Annalise's honor.
Notes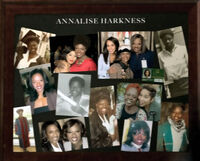 The memory board at Annalise's funeral. Note the name change from "Keating" back to "Harkness".
This is the final episode of the series.
On May 11, 2020, How to Get Away with Murder creator Peter Nowalk released Matt McGorry's final scene was shot for this episode, but was deleted due to time constraints.
Billy Brown was originally filed at Annalise's funeral, but his footage was excised. Pictures of his aged appearance were posted to Instagram.
According to Amirah Vann's Instagram, she was fitted a prosthetic for the funeral scene at the end of the episode but footage of her aged appearance wasn't used in the final cut nor released to the internet for viewing.
Gabriel (Rome Flynn) is the only character who is not accounted for after the trial.
Despite the six season run, only two HTGAWM characters appear on Annalise's memory board at her funeral. Tegan (Vann) is shown on a date with Annalise post-trial, while mother Ophelia Harkness (supporting cast member Cicely Tyson) is seen with Annalise and Scandal's Olivia Pope (Kerry Washington in a two-episode crossover) at Annalise's Supreme Court hearing.
Title
"Stay" - Bonnie Winterbottom to Frank when she found him getting ready to leave her home, she believed he was leaving town, but he had another plan. It was also later said by Annalise to Bonnie as she was dying in her arms.
Music
Multimedia
Gallery
Behind the Scenes
Videos
References