'How to Get Away with Murder' Profile: Philip Jessup
"I know I'm weird. People have always called me that, but I stick to myself ,and I don't bother anyone, alright?"
Philip Jessup is a recurring character on How to Get Away with Murder.
Biography
Edit
Early LifeEdit
Philip is believed to be a child of incestuous relationship of Grant and Helena Hapstall, who was later put up for adoption. ("Hi, I'm Philip")
Philip is firstly mentioned as a "secret baby" of Helena Hapstall, whom Oliver discovered while looking for the birth parents of Caleb and Catherine Hapstall. He is immediately regarded as a major suspect in the murders of Grant and Ursula Hapstall's case. Later, Philip is shown watching Oliver and Connor through a webcam. ("Two Birds, One Millstone")
Oliver keeps investigating Philip's whereabouts on the night of Grant and Ursula's murders. Later, Michaela finds out that the police found DNA at the Hapstall crime scene that doesn't match anyone that lives or works at the mansion. Oliver then learns about Philip's online profile on a gay dating site and sets him up with Connor to gain his DNA and see if it matches the one found at the crime scene. Philip doesn't show up on his date though; he goes to Oliver's apartment and shocks him with his presence. ("I Want You to Die")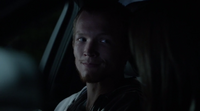 Philip will take care of Catherine's problems.
Philip and Oliver are revealed to have gone to a restaurant to talk. They show up together at the Keating house where Philip begins to explain himself. He presumably lies about not being related to the Hapstalls and also about the identities of his birth parents. He then threatens to go to the police to report the hacking incident. The next day, Annalise shows a picture of Philip to Caleb and Catherine, but they claim they don't know him. Later, Nate sees Philip at the police station making a statement. He decides to take the matter into his own hands and creates Philip a criminal record to make it seem like he has schizophrenia. After the DNA test, Philip's DNA is revealed to match the one at the Hapstall crime scene and also that it is a DNA of a child from an incestuous relationship, presumably making Philip the child of Helena Hapstall and Grant Hapstall. Later that day, Wes discovers that Philip has a painting at his house that was made by Catherine. At the end of the episode, Catherine is shown anxious in a car, only to be joined by Philip who says that he will "take care of this." ("Hi, I'm Philip")
Philip was arrested because of the matching DNA, but he was soon released after questioning. At the same time, everyone, including Caleb, found out about Catherine's link to him and because of it she ran away to a motel. Philip was supposed to meet her there, but she was kidnapped by Frank. He later shows up at the Hapstall mansion still looking for Catherine. ("What Did We Do?")
Philip Jessup is the name of a renowned jurist in the field of public international law.
Appearances
Edit
Episode Stills
Edit
Community content is available under
CC-BY-SA
unless otherwise noted.